Black Book Vs Kelly Blue Book Trade In Values
Is there a difference between Black Book Vs Kelley Blue Book trade in values?  Are you looking to sell your vehicle or trade it in?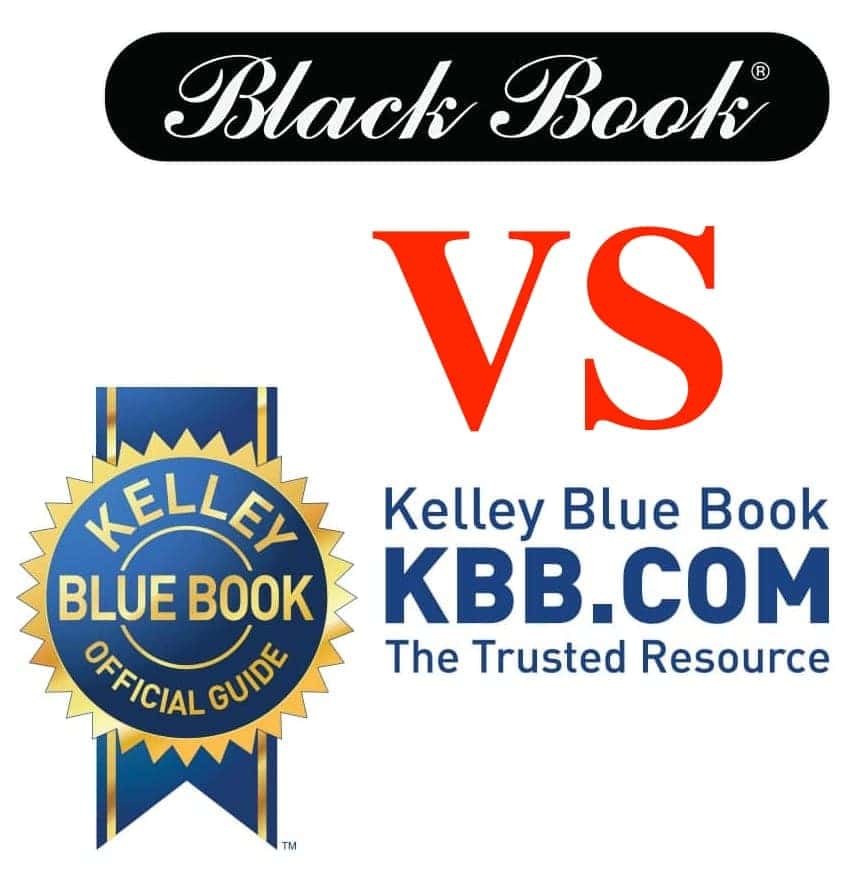 Keep reading to find out all about the 2 main sources for USED Car, Truck and other Vehicle pricing.
Kelley Blue Book
Black Book and more!!!
CAR DEALERS love to quote Blue Book this and Blue Book that, but what does it really mean?
You might hear things like
Blue Book Pricing
We sell below Blue Book
Get Blue Book value for your trade-in
BLACK BOOK vs KELLY BLUE BOOK TRADE IN VALUES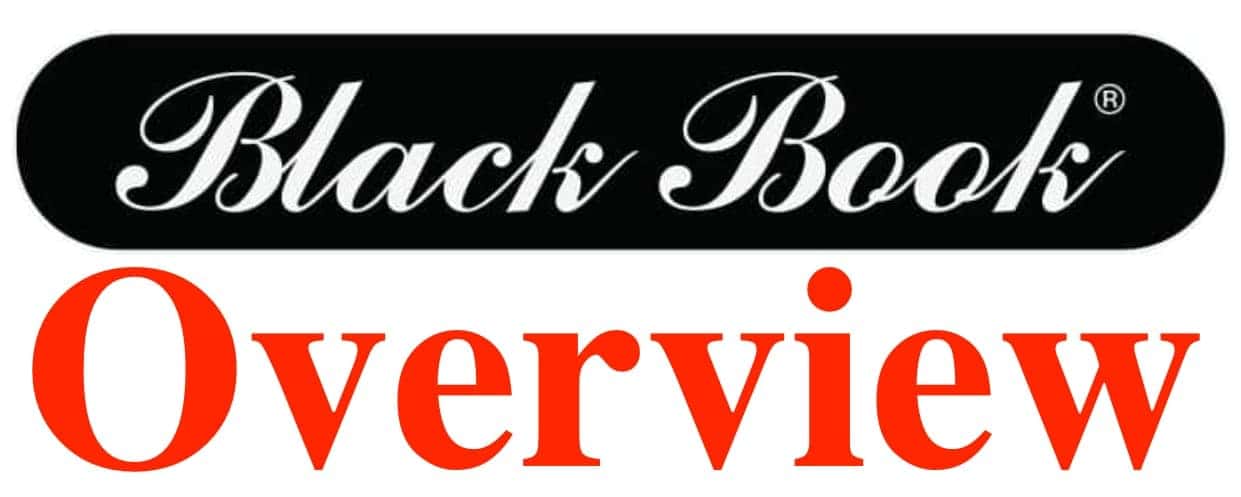 BLACK BOOK – OVERVIEW
Black Book is what dealers usually refer to when trying to figure out how much a used vehicle or trade in is worth.  Black Book originally began in 1955 literally as a black book containing weekly car values for every vehicle and every region in the country.  Today Black Book (https://www.blackbook.com) is available via the web or mobile through a paid subscription.
Black Book offers various paid subscription options.  The main subscription that Dealers use includes trade in values and information on cars and light trucks.  These vehicle appraisals help dealers calculate vehicle leases and used car and truck prices.
Four wholesale values based on condition: Extra Clean, Clean, Average and Rough
History Adjusted Valuations – a more precise way to appraise vehicles. Instantly understand the impact of a vehicle's history report on its value.
Four retail values based on condition: Extra Clean, Clean, Average and Rough
Three trade-in values based on condition: Clean, Average and Rough
Finance Advance™ value
Value adjustments for mileage and optional equipment
Value adjustments for region or state
Access auction sales data from over 162 auctions with our Complete Market Report (separate subscription required)
Over 32,000 used vehicle values for model years 1981- current.
Pull up to 1,000 valuations per month.
Black book offers subscriptions in both print and online and also via a mobile application.  Mobile subscriptions start around $65 a month or over $700 annually.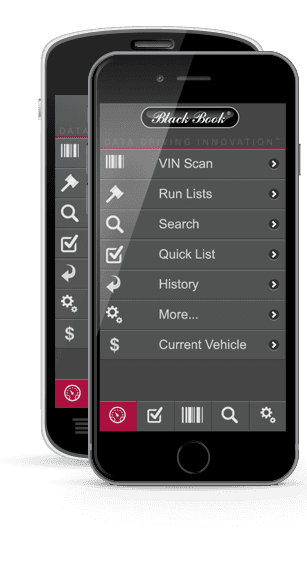 If you want to know what the dealers know when buying a used car, the Black Book mobile application is a great tool to use.  Because they offer monthly memberships, it will not cost a ton to be really informed.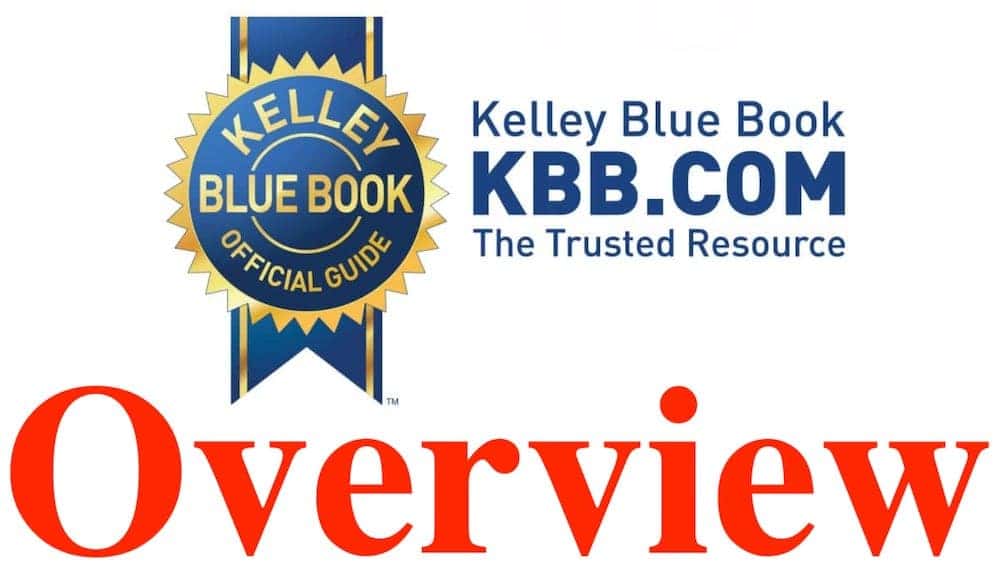 KELLEY BLUE BOOK – OVERVIEW
While Black Book is mostly used by dealers, Kelley Blue Book (Not spelled Kelly Blue Book without the "e") is mostly used by individuals looking to trade in or sell their vehicles.   Since 1926, Kelley Blue Book has been one of the best-known names in the auto industry.  Today, https://KBB.com or https://kelleybluebook.com extends the tradition, with trusted values and a reputation for innovation, including resources to help you research, price and shop for the car you've been looking for.
One advantage of using Kelly Blue Book is the service is free without monthly subscriptions.
Kelly Blue Book rates its used car evaluations as
Kelley Blue Book breaks it's pricing guides into 2 main categories which include the KBB New Car Guide and KBB Used Car Guide.
BUYING NEW
If you are in the market for a new vehicle, the KBB New Car Guide contains pricing information for the current model year including
MSRP (Manufacturer's Suggested Retail Price)
Dealer Costs
Extra Costs – includes other various costs (Example shipping costs)
Pricing Schedules – includes pricing for various options that buyers can select
BUYING USED
If you are in the market for a used vehicle, the KBB Used Car Guide contains pricing information for used vehicles made in the last 15 years.  The Used Car Guide offers several different prices:
Retail Price – also known as the dealer price or what you could expect to pay at a dealer.
Trade-In Price – also known as the dealer trade-in value
Private Sale Price – Is the price for selling by owner.  The Private Sale Price is almost always lower than the Trade-In Price and is a good estimate of what to expect to pay for or sell a used vehicle from a non-dealer.
The Used Car Guild includes various charts and tables for calculating price based on
Vehicle Condition
Car Mileage
Vehicle Options
If you are looking to buy or sell an older vehicle, motorcycle or RV, that information is published separately and may only be available in guidebooks and not via the KBB website.
Historically Kelley Blue Book gathered vehicle cost data information through vehicle auctions, which often can inflate the price compared to how Black Book calculates their trade in and used vehicle prices.
NATIONAL APPRAISAL GUIDES
Beyond both Black Book and Kelly Blue Book, another useful tool for figuring out vehicle price is NADA (http://www.nadaguides.com).  National Appraisal Guides, Inc. is the largest publisher of vehicle pricing, information and tools for new and used cars.
BLUE BOOK VS BLACK BOOK | BEST ADVISE
As a rule of thumb Kelley Blue Book values are a pretty good indicator to use when buying vehicle from an individual or when selling a vehicle to an individual.  The Blue Book values tend to be a little on the high side when buying used vehicles from a dealership or when trading in a vehicle.
Best advice is to do your homework and don't go into a buying or selling situation blind.
If you happen to be in the Wyoming or Nebraska neighborhood, check out out Fremont Motors for loads of new and used cars, truck and SUVs.
KELLEY BLUE BOOK Vs BLACK BOOK | FAQ
What Are Black Book Car Values?
Black Book Vehicle Pricing.  The Black Book is what dealerships typically use to lookup pricing information about new, used car, truck, and recreational vehicle prices.  Black Book updates the Dealer invoice and Manufacturers Suggested Retail Prices (MSRP) weekly.   Dealers also use the Black Book loan values for finance purposes.
Black Book publishes weekly publications in print and online is still going strong today.
What Is The Difference Between Black Book and Kelley Blue Book?
As stated above, the Black Book is what dealers usually refer to when trying to figure out how much a used vehicle or trade in is worth.  Consumers will typically use Kelley Blue Book values when estimating new and use vehicle costs.
Is Edmunds Or KBB More Accurate?
In realistic terms both Kelley Blue Book (KBB) and Edmunds give an approximation of vehicle value based on various sources.  Both the Kelley Blue Book and Black Book are generally used when buying a car from a dealership.

What Is The Value Of My Car In Kelley Blue Book?
The Kelley Blue Book is a good estimation of what a car might sell for and how much it is worth.  The price doesn't include warranties and other options that may increase the a cars value.  Ultimately the KBB value is often used as a starting point for negotiation and not the final price.

What Does The Black Book Value Mean?
You can think of the Black Book values as an estimated wholesale value of a vehicle that dealers use to ensure profits when buying or selling used cars.  From a consumer standpoint, a dealer will always look to make a profit, so you can expect to pay over the Black Book value when buying used and under the Black Book value when trading in or selling your vehicle to a dealer.