Vehicle History Report and VIN Check
When buying a used vehicle, knowing the vehicle history can save you headaches down the road.  When performing a vehicle history report of a car, truck or SUV, it is often referred to as a
Vehicle History Report (VHR)
VIN Check
VIN Lookup
VIN number check
Locating Your Vehicle's VIN Number
The most common location for a VIN number is right below the Driver side front window.  There is usually a metal strip containing the 17 digit VIN.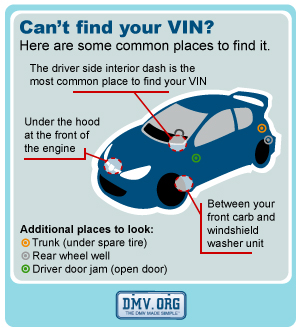 The VIN is broken down into 3 main sections and 8 sub sections including
Manufacturer Identifier
Country
Manufacturer
Type
Vehicle Description Section
Vehicle Identification Section
Year
Assemble Plant
Production Number
Vehicle History Report & VIN Numbers
The starting point for performing a background check on a vehicle is to use the vehicle's vehicle identification number (VIN).
High level VIN checks are usually free, but don't go into great detail.  More complete VIN checks offer a much more in depth review of a vehicles history, but come with a price tag of $25 to $40 per report.  Most services offer discounts on multiple reports.
If you're looking to get the most accurate and overall review of a vehicles history it's often better to pay for it.
Many dealerships offer free vehicle history reports with their used vehicles.
What Does A Vehicle History Report Show?
An accurate vehicle history report should include a detailed accounting of the vehicles past history including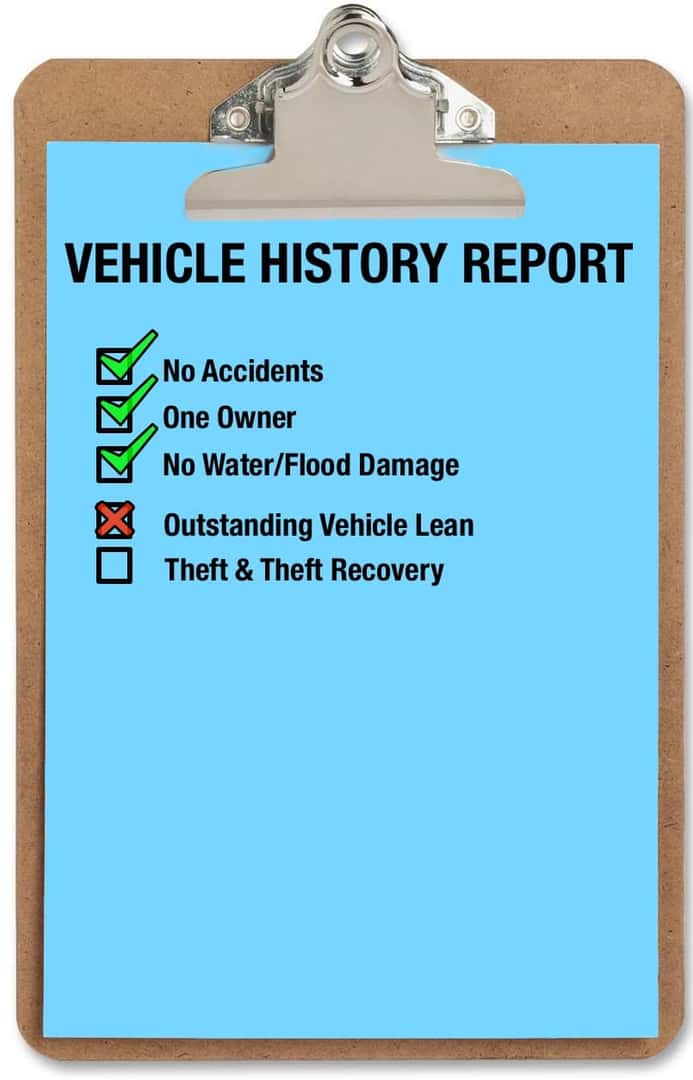 Past Ownership (Single or Multiple)
Accident History
Lemon Title Brand
Odometer Tampering or Rollback
Water/Flood Damage
Certified Preowned Vehicle
Structural Damage
Salvage Title Brand
Police Use
Taxi/Fleet/Rental Use
Theft and Theft Recovery
Outstanding Vehicle Liens
Airbag Deployment
Past Vehicle History Flags
Water/Flood Damage
One very common and shady practice that occurs quite often in today's used vehicle market is selling previously flooded vehicles.  A vehicle that has sat idol in a flooded area can often be restored to look like new.  The problem is most cars today are electronic and water, mud and salt can cause havoc with electrical systems.
Some flood water related issues might not present themselves until after you have already purchased the vehicle and driven it of the lot.
Buying a flood-damaged car can put you into substantial financial risk should major repairs be necessary.  Beware of buying a used car within 6 months to a year of a major flooding event similar to what happened in Huston, Texas.
Taxi/Fleet/Rental Use
Let's face it, most taxi and rental companies are pretty tough on vehicles.  Knowing a vehicle has been a rental can give you a good idea that the vehicle, in most cases, has had more wear and tear.
Vehicle History Report Check Companies
There are quite a few companies that provide vehicle history reports including
Both Auto Check and CarFax are paid vehicle history check services and offer a comprehensive review of a vehicles history.  VehicleHistory.com appears to be free and seems to provide a lot of useful report information.
Should You Perform A VIN Check Prior To Buying Used?
Once you have settled  in on the vehicle you want to purchase it's a very good idea to get a complete car history through a VIN check.  The old saying better safe than sorry really does apply when buying used and an ounce of prevention should only set you back at most $50, so it's money well spent.